Top 10 Secrets To Scale Ridiculously Fast – Opt-In
The Top 10 Secrets To Scale Ridiculously Fast With Paid Advertising
Learn How To Scale Your Revenue Fast…
Without Having To Worry About Social Media Algorithm Changes… For FREE!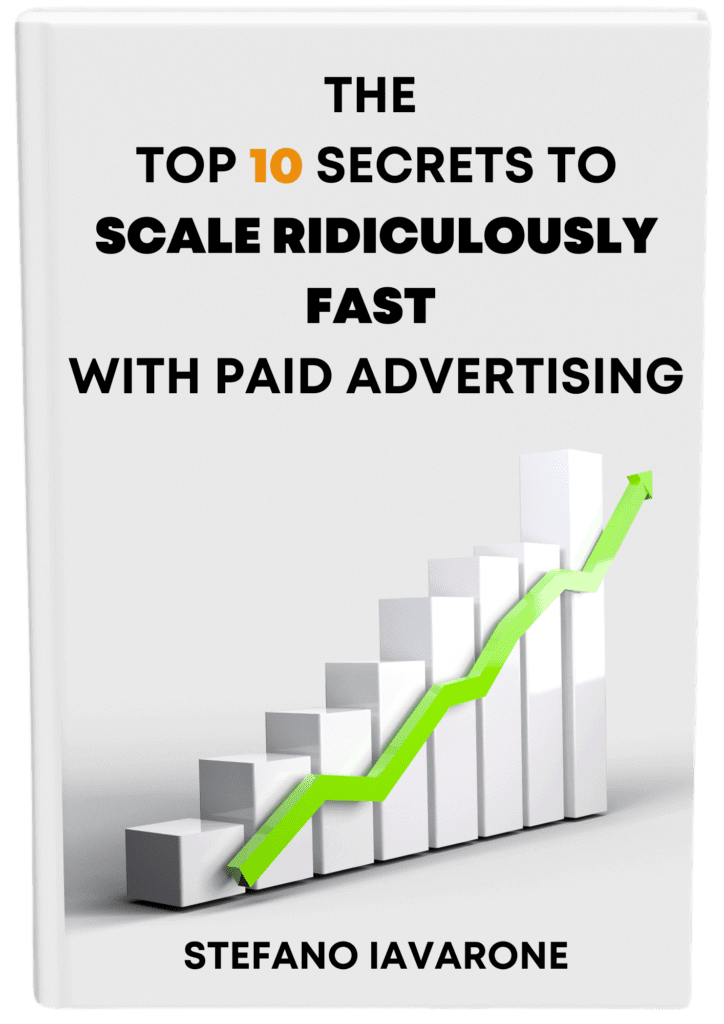 FREE Instant Access!
Enter your best email below and I'll send you a FREE copy of my new ebook, "The Top 10 Secrets To Scale Ridiculously Fast With Paid Advertising":
By providing us with your information you are consenting to the collection and use of your information in accordance with our Privacy Policy.
The Top 10 Secrets To Scale Ridiculously Fast With Paid Advertising
Inside This Free eBook You'll Discover…
After years of studying the fundamentals of human psychology, copywriting and digital marketing, it's becoming more evident that most entrepreneurs suffer from the same patterns when they try to scale their business.
In this book, you're going to discover the TOP 10 fundamental components of scalable advertising, why they work and how to use them.
HINT: Even though this book is for entrepreneurs who are already doing paid advertising, you'll want to read it too if you ever thought about marketing or advertising. Some of the principles apply for organic too!
Here are a few awesome things you'll discover in this book:
The simple, yet explosively high-rewarding questions you need to ask about your prospects to laser-target your message and make sure you don't waste your time, money and energy talking to the wrong prospects… pg. 9
The 3 super-common mistakes you might be doing with your ads right now that absolutely KILL your conversions… pg. 11
The 1980s practically-free tool that most entrepreneurs disregard even though it can increase your conversions by 88X… pg. 12
What you need to focus on if you're serious about scaling (not doing this is the best way to struggle with cashflow month-to-month)… pg. 12
Why losing money on front-end ad campaigns could be your best secret weapon against your competitors… pg. 12
The 2 types of campaigns, which one matters most if you want to sell, and why… pg. 13
How to combine both types of campaigns so you can literally "Buy 1 Get 1 Free" for every $1 you spend on your ads… pg. 14
The only way to make your prospect care about you…and why nothing else matters… pg. 15
How to reverse-engineer your adspend to instantly know whether you need to go back to the drawing board or scale profitably on a consistent basis… pg. 16
The crazily frightening yet simple mistake you could be doing across your ads, posts, funnel pages, website and emails that instantly kills engagement, conversions and your connection with your prospect (this mistake should be illegal)… pg. 18
The 3 words that will immediately destroy your chance to use the same funnel or ad campaign for months and years while still remain profitable… pg. 19
What most copywriters will tell you…why they're wrong and why most entrepreneurs end up giving their revenue away like a charity to social media ad platforms like Facebook without them even knowing!… pg. 20
The single component that needs to be a constant pillar across all your channels to scale confidently (unless you want to gamble your adspend)… pg. 21
The 2 "W"s that determine whether you'll scale up or down… pg. 22
How you can leverage strategy and copywriting to consistently scale with advertising and still remain profitable if social media algorithms change and raise your cost-per-lead sky high… pg. 22
How to get 1 "sales person" to sell to thousands of your prospects and customers without having to be on-call, literally 24/7/365… pg. 22
How you can leverage my skills so you don't have to waste months and years learning human psychology, copywriting and digital marketing to write your own highly-persuasive copy, and treat me as a results-based "partner"

Download "10 Scaling Secrets" FREE Now!

Here's What To Do Next…
Thanks for taking your time to read my message to you.
I look forward to hearing your feedback and results from using the "10 Scaling Secrets"!
Thanks,
Stefano Iavarone
TLDR: If you're one of those people who scroll fast and skip to the end (just like me), here's the deal:
I'm giving you my new ebook, "10 Scaling Secrets" completely FREE! Just let me know your name and email address, and I'll send you a copy immediately!
No credit cards… no tricks… no contracts. (Are you ok if I give you a free secret bonus…? haha!)
Sounds good? Click on the button to get it right now:

Download "10 Scaling Secrets" FREE Now!

"Right, What's The Catch…?"
Hey, I know there are a bunch of scammy websites out there.
You decide to get something they offer for free and you end up with people from the company calling you on your phone.
Or locked in on a subscription or fee you didn't even know existed, and then have to waste time calling your bank to get a refund.
I don't do anything of that sort. It's not in my character.
And this ebook isn't one of them either.
There are NO hidden "continuity programmes", calls, SMSs or Fedex/DHL scams.
I'm doing this for a few reasons:
It's my way of thanking you for becoming (or being) an awesome subscriber to my curated newsletter.
Unlike fake so-called "gurus", I'm not in the preaching business. I'm an actual direct-response copywriter and I treat it like a business. Because of that, what I'm sharing in this ebook is what I'd share and work on with my own clients.
This ebook gives me a chance to show you how you can scale your business. When you see how awesome it is and implement some of the secrets in your business, you might decide to buy from me in the future when I make you an offer. The more profits I can make you now, the more likely you'll want me to work with you.
I'm a bit of a rebel…sometimes I'm too direct with people who don't know me and they get easily offended. This is my way of easing my personality with you while still giving you something valuable.